STAIN REMOVAL & PROTECTION
Here's a few handy tips and tricks to help you get that annoying stain out…
Accidents are inevitable but if you act quickly you may well avoid a permanent stain. Just follow this guide from the NCCA to deal with all the common stains:
If something gets spilt on to your carpet, prompt action is required to prevent staining.
We recommend having the following items and solutions to hand for dealing with spillages as soon as possible:
Clean white absorbent cloth or towel
Dry Cleaning Solution
Surgical Spirit (usually available from local Chemists)
Useful for: solids, fats, tar, chewing gum, oil, ointment, shoe polish and unknown stains. Then follow with a detergent vinegar solution.
Detergent Solution
One teaspoonful of gentle detergent for washing woollens, to half a pint (0.3 litres) of warm water
Useful for: chocolate, sweets, blood, glue, egg, ice cream, milk, soft drinks, vomit and unknown stains that require further treatment. Follow with an ammonia solution.
Detergent Vinegar Solution
Add one teaspoonful of white (not malt) vinegar to the Detergent Solution
Useful for: alcohol, coffee, tea, liquid foods, and urine.
Ammonia Solution
One teaspoonful of branded household Ammonia (available from hardware stores) to one cup of warm water
The benefits of protection are threefold:
Repelling liquid spills, allowing you time to mop them up.
Resists damage to the fibres giving you longer lasting carpets, which saves you time and money replacing them.
Releases dirt and grit from the carpet making it easier to vacuum and keep healthy.
What's more the protection carries on working without you seeing, feeling or smelling it!
Stain Protection is not just for carpets, it can easily be added to fabrics and furniture after cleaning or as soon you get them home from the store.
Stain protection is commonly known as 3M Scotchguard. We have a full range of stain protection products to best protect the wide variety of materials on the market.
Our Professional Stain Remover
Any client who has stain protection applied will receive a bottle of our professional stain remover.
This will help you with your own stain removal needs.
The product is designed to be used on washable carpets and fabrics.
And when you run out, just give us a call for a replacement.
We'll also be happy to quote for your stain removal job ourselves.
If you're interested in getting your bottle, then contact us today.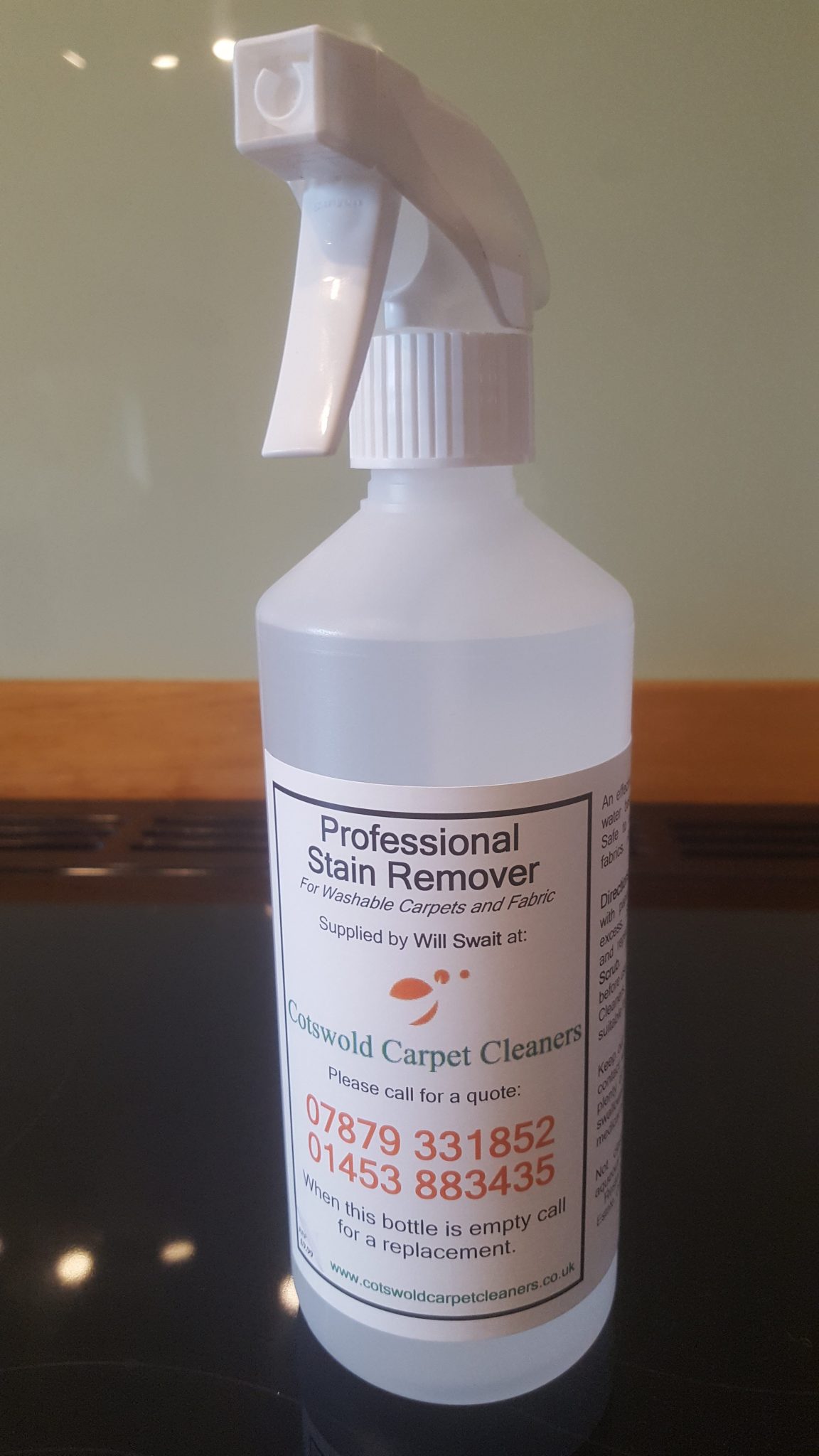 Do you need help with professional cleaning? Fill out this form to get in touch.
Error: Contact form not found.